If you're like me, you're always looking for some fun, free games to play online. There are a lot of really fun, free online kid game websites, but not all of them are that great. Here are my favorite free online kid game websites… enjoy!
1. http://www.miniclip.com has a lot of games for kids to play! They have everything from baseball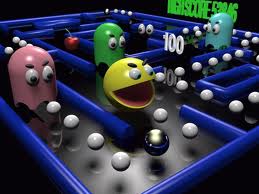 games, to racing games, and they even have an Obama game where he hunts aliens. My two favorite games on Miniclip are Zoiks, which is a game where you place guns on a board to "shoot the Zoiks", and Sudoku, which is a fun puzzle game that tests your smarts!
2. http://www.addictinggames.com lives up to its name! Most of the games on Addictinggames are really fun to play. They have adventure games, strategy games, sports games, and even a Pacman type game. Kitten Cannon is probably my favorite. It is a game where you shoot a kitty out of a cannon and get a higher score, the farther it shoots.
3. http://www.candystand.com offers a lot of different games that kids will enjoy. Candystand even has multiplayer games, like UMAG, which is my favorite. UMAG is great because you get to pick a gun and then shoot your opponent's tank before he or she shoots your tank!
4. http://www.funbrain.com has a lot of games for younger kids. They have a lot of learning games, like Bumble Numbers, which teaches kids how to add or subtract. Math Baseball is my favorite game on the site. It's simple but really addicting. In order to get "hits", you have to correctly answer math questions. I find this type of game to be really challenging, plus I like the fact that it teaches me things!
5. http://disney.go.com/games/#/games/ offers a lot of fun games from Disney! There are a lot of games from your favorite Disney movies, like Pirates of the Caribbean. There are also a lot of fun original games, like Club Penguin. I really like this site a lot, because I'm really in to Disney stuff. If you are too, then you won't regret trying out any of these games.
6. http://pbskids.org/games/index.html has several games for younger kids. There is something for everyone here, including educational games and games based on television shows. This is a great place to hang out and learn, but in a fun way!
7. http://www.nick.com/games is a great place to play fun games based on your favorite Nickelodeon shows and characters. There are several games based on everyone's favorite cartoon character, Spongebob Squarepants. There are also a lot of fun trivia and puzzle type games that will get your brain working!
8. http://www.learn4good.com/games/index.htm if filled with great full games and some demo games. There's a great variety of fun games on this site, including action games, maze games, and sports games. There's also an entire part dedicated to younger kids, where they can play fun games that will teach them about math and science!
9. http://www.y8.com/tags/Kids is a humongous directory filled with over 3,000 children's games. Each game can be rated by users, which is a great way for kids to figure out if a game is good. There's something here for everyone, and I once spent an entire day playing games on this site.
10. https://www.wizard101.com/start is a great game for kids that like Harry Potter. While the characters aren't the same as the Harry Potter books, the game really has the same type of feel to it. It's a massive game with great graphics, and I found myself playing it nonstop. This is a great game for any kid who loves magic and action!