I've talked in this blog before about freebie demos on the Xbox.  You download these through your XBox Console through XBox Live.  These demos let you get a taste for games, and there are enough free demos that you can try a bunch each day and not get bored.  There are some great free online games for kids coming out in the next few months that you should definitely keep an eye out for. While I don't know how good these demos will be, I've heard good things.
Portal 2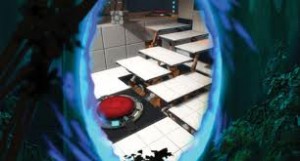 I played Portal — the first version — and it was AWESOME.  Short, but awesome.  Did I say Portal was awesome???  I can't wait till Portal 2 is released.   Seriously.  I'm calling it now, this game will be one of the best games to be released next year.  Portal 2 will be like the first one: you are essentially playing a puzzle maze against an artificial intelligence computer who is totally insane.  You have a portal gun, and you have to blast openings through walls, ceilings and floors to get to the next level.  It sounds pretty boring, but trust me, it rocks.  Well, at least the first version did.  The buzz on the second version is that it should be as good as the first but even better.  I've seen clips of the graphics and it looks just flat out fantasticarded.  Put it on your radar,  the totally FREEEEEEEE demo is scheduled to be released in early to mid 2011.
Naruto Shippuden: Ultimate Ninja Storm 2
The latest Naruto game is great if you loved the anime and want to play a game with a great storyline. It blends the adventure of a role playing game with the excitement of a fighting game in the way that only Naruto can do. The game is scheduled for release in mid-October, but the free demo was just recently made available for kids to download and play!
Scott Pilgrim: The Game
This cooperative game lets you play alongside up to three of your friends in a quest to win the heart of your crush! It's geared slightly toward older kids, but even if you don't understand the story, it's still a fun game that lets you team up to fight bad guys and solve puzzles. The free demo is scheduled for early September release.
A World of Keflings
This latest game lets you use your XBox Live Avatar to explore different worlds, complete quests, and get items to decorate your image. You can play over the Internet with up to three other friends, which is the only way to play this game. It's fun to be able to chat while solving puzzles together. The free demo is not yet available, but should be released by December 2010. Keep an eye out!
Need for Speed™ Hot Pursuit
This is a racing game that might be fun for older kids, but there's nothing in it that would worry your parents, so you can play it no matter how old you are. Basically, you drive a car around a track and try to beat computer racers or your friends to the end. You can play with up to eight other people over the Internet with the full version, but with the demo, to be released by December 2010, you'll only be able to play with one other person. Still, it should be a really fun racing game!
Hydro Thunder
Another racing game, the Hydro Thunder demo pits you against computer players or your friends (or parents, if they're cool enough to game with you!) in a variety of exotic and fantastical kayaks. The backdrops are gorgeous, as is the music. This is the perfect game for kids who love to be immersed in a game's atmosphere, as you can interact in so many ways with the environment. This demo may already be available for free download in the XBox Live Marketplace.
Fifa 11 & Fifa 2010 World Cup
These two soccer games are perfect for sports lovers. The free demo for Fifa 2010 is available now, and gives you the option of playing as all your favorite World Cup teams. Fifa 11, meanwhile, is supposed to be a comprehensive demo that lets you play league games all over the world. Interested in the European soccer scene? How about the up-and-coming Asian League? The Fifa 11 free demo won't be released until late September 2010, however, so you'll just have to wait patiently for that fun time.
Puzzle Quest 2
If you're less interested in sports or action, but you still want to play cool online free games, try Puzzle Quest 2. The free trial may already be out for this sequel to Puzzle Quest, the gem matching RPG/Puzzler that took the country by storm only a couple years ago. This game strengthens your logic and brainpower, meaning that your parents won't give you a hard time if you play it all weekend. Score one for kid gamers!
Spider-Man™: Shattered Dimensions – Play as Spiderman slinging webs and fighting crime through four parallel universes! If you read the comics, watched the cartoons, or saw the movies, you'll love this latest Spider-Man game demo. The demo is absolutely free and will be available for download over XBox Live by the end of the year. You can play it and if you like it, ask your parents to get it for you for Christmas!
Dance Central
While we're not sure exactly when this free demo is going to be released, we do know that it's going to provide a fun experience! Dance Central is the next wave of dancing games. All you need is the revolutionary Xbox Kinect and your body. The game tracks your motions and teaches you to dance, which is great if you're in the mood to play free online kid games but you don't want to sit on your butt to do it!