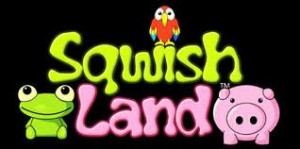 Hey everyone, it's GrantMac. Alright, I'm sure you're already familiar with "squishies," those cute little rubber animals that can be found in vending machines. If your school's anything like mine, they have probably been all the rage for a while. In one of my classrooms, the teacher actually banned the word "squishy" from being used – she was that tired of hearing about it! Anyway, it looks like those cute collectibles finally have a purpose. It's an online game called Sqwishland, or Squishland, and it's definitely worth a look. If you already own a few squishies, you're ahead of the game!
Overview
If you've ever played the Webkinz online kid game, then you already have a basic understanding of how Sqwishland works. The idea is similar: You collect squishies from vending machines. They come in those little plastic capsules. Inside the capsule, you'll find a Sqwishy character and a special code. Just click your way over to www.sqwishland.com, sign up for a free account and enter the code that you found in your capsule. You'll be rewarded virtual game cash, called SqwishCash, that you can use throughout Sqwishland. Seriously, this is easy enough for my 7-year-old sister to do!
The first time you log on to Sqwishland, you start out in the Sqwungle. From that point forward, you can take the game in any direction you could want. You have two basic goals in the game: collecting SqwishCash that you can use to buy new stuff, and staying away from the evil Sqwabbles that live beneath Sqwishland. You can roam around freely, or you can sign up for special quests that can earn you big rewards. If you'd like to do that, just visit the lion in the Sqwungle – he'll help you get started on your mission.
Everyday Game Play
Your "home base" in Squishland is called your SqwishHome. You can deck it out with all sorts of cool things by visiting shops throughout the virtual world. Of course, you'll need SqwishCash – just play random games to earn it. Once you get the ball rolling, you'll love how easy it is to collect new items. You can also add new Sqwishies to your family; just visit the SqwishGallery when you've saved up enough SqwishCash. There are tons of cool characters to choose from, so take your time and find the ones that you like the best!
How Much Does it Cost?
One of the best things about Squishland is that you can play it for absolutely FREE.  Yep, I said it… free.  (Heck, if it wasn't free we wouldn't be talking about it here!!!!).  Many parts of the virtual world are free to all players; at most, you'll just need a 25-cent Sqwishy toy and code from one of those vending machines. All players receive a 30-day free premium membership, too, so you can get a feel for what the full-fledged game has to offer. If you decide that you can't live without full access, don't worry – Sqwishland is amazingly cheap. A one-month membership costs just five bucks. You can sign up for a full year for only $45, too.
Visit Your Friends
Most likely, you already know plenty of other people who play Sqwishland. Thanks to the game's Chatterbox feature, you can chat with them while you're logged into the game. Interacting with other players in the game is a huge part of the fun, so be sure to tell all of your friends about it. Before you know it, you'll all be logged in and comparing notes about the cool things that you've collected.
If you've outgrown Webkinz – or are just kind of bored with it – but still want to have an addicting online game to play, Sqwishland is a great option. Better yet, it is way cheaper than most other virtual worlds. All of the squishies that you've been collecting will finally have a purpose! Grab a code that came with one of your squishies and log on to the game today!